Welcome to the August 2012 Simplicity Parenting Carnival: Productivity
This post was written as part of the monthly Simplicity Parenting Carnival hosted by The Lone Home Ranger and S.A.H.M. i AM. This month we are discussing how we balance simplicity and productivity, i.e. remain productive while also maintaining a slower pace of life. Be sure to read to the end to see a list of the rest of the excellent carnival contributors.
***
Recently I've been re-evaluating how I measure productivity. Since I've been trying to slow down, relax, and
let go of my obsessive list making
, this has been a challenge.
In the past I've always considered myself productive only if I accomplished things beyond my everyday responsibilities. If I made yogurt and cookies and bread and played house with my daughter for 3 hours and did finger painting and went swimming, but the house wasn't clean, the dishes weren't done, dinner wasn't made, and the laundry wasn't finished...it didn't count. I didn't feel productive.
In my mind everything needed to be completed all on the same day and at the same time in order for me to consider myself productive. It was all or nothing. Productivity was about quantity.
Lately I've been trying to change my mind set by literally changing how I interpret productivity.
First,
I have to stop comparing myself to others
. Just because someone else has seven kids and still manages to have a clean house and make bread from scratch everyday and grow all their own vegetables doesn't mean I'm not productive if I can't do the same with only one child.
Second,
I have to prioritize
. I'm trying to slow down. I'm trying to simplify our lives. I'm trying not to worry so much about the superficial stuff. It's hard. There are some things I can't compromise--I'm a saner, happier human being when the dishes are washed so I try to keep the sink empty. But if I spend an hour playing library with my toddler and the vacuuming doesn't get done, it doesn't mean I'm not productive. More often than I like to admit, my sink is full of dishes but it doesn't mean I've failed.
Taking care of myself and my family--spending time together and letting other stuff go--is a priority and is now considered productive.
For a long time I felt like
I had to get everything else done before I deserved spend time with my family.
But my efforts to simplify our lives are useless if I spend the entire day telling my daughter, "no, maybe later" when she needs my attention. Spending time with her is more important than making bread. I'll compromise and buy bread at the store this week and still consider myself productive. I haven't failed at living simply if I don't make every single thing we eat from scratch.
Finally,
fulfilling everyday responsibilities IS productive.
This is a big one for me to wrap my head around. If I keep up on the dishes today and do an art project with L, I was productive. If I took a shower and went grocery shopping, I was productive. If I did two loads of laundry (and folded and put them away) and still made dinner, I was productive. If I made dinner and washed playdough out of my daughter's hair midway through the dinner making process, I was totally productive. If I got the bare minimum done at home and didn't work a full-day outside of the home, I was still productive.
I am productive even when I don't feel productive. I'm productive even if I didn't accomplish everything I wanted to get done.
Productivity doesn't have to be complicated. It can be simple. If I accomplish what needs to get done (by that I mean what really,
really
needs to get done and not the unrealistic list that I keep in my head), I'm productive. And if it didn't get done even though I thought it was absolutely necessary for our survival through the day? Obviously, it wasn't as important as I thought.
Simplifying changes everything. It changes my mindset about productivity but it also changes things in a more literal sense. As I've been sorting through our belongings and making numerous trips to Goodwill, I'm making it easier to keep the house clean. Less stuff=less mess=less time spent cleaning=more time with the family or baking bread or making jam or whatever my task of the day might be.
By compromising, simplifying, and prioritizing, I'm figuring out what is really important, trying to let go of the rest, and accepting the fact that I am indeed being productive, even if it doesn't feel like it.
***
Thanks for reading the Simplicity Parenting Blog Carnival! We hope you'll take time to read these other great contributors' posts: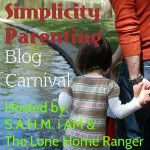 Thanks to all the fabulous writers and readers for being a part of our simplicity parenting community! Stop by
The Lone Home Ranger
and
S.A.H.M. i AM
to see how to join us for a future carnival.
This post was shared with Simple Lives Thursday.